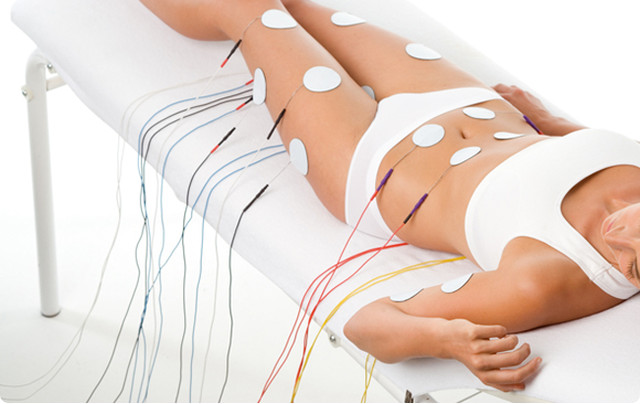 Electrical muscle stimulation (EMS), also known as neuromuscular electrical stimulation (NMES) or electromyostimulation is the elicitation of muscle contraction using electric impulses. EMS has received increasing attention in the last few years because of its potential to serve as a strength training tool for healthy subjects and athletes, a rehabilitation and preventive tool for partially or totally immobilized patients, a testing tool for evaluating the neural and/or muscular function in vivo, and a post-exercise recovery tool for athletes. The impulses are generated by a device and delivered through electrodes on the skin in direct proximity to the muscles to be stimulated. The impulses mimic the action potential coming from the central nervous system, causing the muscles to contract. The electrodes are generally pads that adhere to the skin. The use of EMS has been cited by sports scientists as a complementary technique for sports training and published research is available on the results obtained. In the United States, EMS devices are regulated by the U.S. Food and Drug Administration (FDA).
Electro stimulation therapy is a painless alternative treatment which, apart from some of the aesthetic fields, is successfully used in situations that require surgery and physical therapy.
Electro stimulation treatment is successfully applied for:
Weight loss,
Cellulite loss,
Skin tightening,
Childbirth cracks,
Heel spur,
Golfers elbow,
Tennis player elbow,
Shoulder calcification and similar disorders.
Is Electro stimulation treatment applied to everyone?
Electro stimulation treatment is not applied to:
Pregnant,
Cancer patients,
Individuals who had joint and bone surgery (platinum) and in young individuals who did not complete bone development.
Is Electro stimulation treatment applied to every area?
It is not applied to neck area, and areas close to head and neurons.
Electro stimulation treatment offers a non-surgical, painless, non-cortisone treatment to patients in heel's spur treatment. Patients can continue with their daily life routine after the treatment.
Number of sessions
Maximum 2 sessions are implemented in hard tissue applications and maximum 3-4 sessions are implemented in soft tissue applications.
Session duration and session intervals
Sessions which last for 20-30 minutes are implemented with one week's interval.